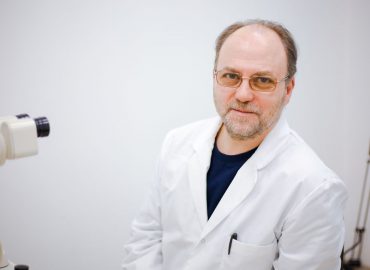 Ophthalmologist of the highest category
The member of the All-Ukrainian Society of Ophthalmologists
My philosophy: Treat the patient just the way I would like him to treat me.
1989 – graduated from Lviv Medical Institute.
1990 – passed internship in ophthalmology.
1995-1996 – worked as a private ophthalmologist in Bad Kreuznach (Germany).
1996 – he passed courses on eye microsurgery at UMHO in Kyiv.
June – July 1998, February – March 2003 – Courses in the workplace on the topic of "Phacoemulsification of cataracts" (Universitats-Augenklinik, Mainz (Germany)).
2003 – VET – LAB for phacoemulsification of cataracts at AMO, Etlingen, Germany.
2005 – VET – LAB on facecumulsification of cataracts at "Alcon" company, Kiev.
At present time he works as an ophthalmologist at the 2nd city clinic in Lviv, and since 2003 – an ophthalmologist at the Private Clinic Estel.
Teachers: Associate Professor of Medical Sciences O. Schwen (Germany)
Prof. of Medical Sciences N. Faiffer (Germany)